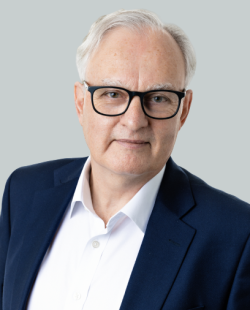 Mark Leaning is a successful international executive with a passion for transforming healthcare for the better with technology. His work spans primary care to intensive care, from prevention to the critically ill and injured, and has led to large-scale market adoption, listings, acquisitions and the development of groundbreaking products.
Previously, Mark was Chairman of Helicon Health, which provides digital health services for shared care at home and across primary and acute with conditions such as cardiovascular disease, cancer, diabetes and dementia.
Mark was CEO of Applied Physiology, a medical device company he founded whilst in Australia. Under Mark's leadership, the company raised $15m in equity and non-dilutive grant funding and developed Navigator, an innovative and world-first CE Marked and FDA cleared real-time critical care cardiovascular decision support system.
Previously, as Executive Director at HCN, Australia's leading supplier of clinical GP systems, Mark led the M&A program and played a key role in its $50m listing on the ASX. HCN was subsequently realized $100m for its shareholders.
Before HCN, while living in the United States, Mark was Chief Operating Officer of Preferred Health Systems, a medical software company he co-founded, which was acquired by Magellan Health Services.
Mark has an engineering degree from Cambridge University, followed by an MSc and PhD in Systems Engineering from City University. He was Lecturer in Medical Computing at the Royal Free Hospital School of Medicine, then Principal Research Fellow at University College London. Mark was appointed a Visiting Professor in CHIME at University College London. He researches and publishes on a range of subjects including biomedical engineering, mathematical modelling, artificial intelligence and digital health. Mark is also a successful inventor and product developer, having brought several new products to the health market.